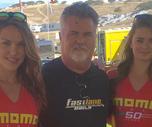 THE NICKNAME CAME FROM 3+ DECADES OF HIGH TECH MARKETING
I worked with Steve Jobs, Bill Gates, Jerry Sanders and many more tech giants marketing hardware and software in the 70s, 80s and 90s. Because I was always comfortable with new technology, I was given the nickname techweenie.
Throughout the time I worked in tech marketing, on the side I produced the marketing, ads, and catalog for Automotion, a leading independent Porsche parts supplier, 1977-99 - all the while owning many Porsches. Consequently, I have a good understanding of Porsches and their components, both OE and aftermarket... More on my history here.